With all the Japanese restaurants in Toronto's Financial District, choosing a place to eat can seem daunting. Below, I offer my suggestions for the best authentic, business and casual lunches based on the numerous restaurants I've dined at. Like all good places during the winter; most are accessible through the Underground PATH.
For Something Authentic
Location: Hiro Sushi
Address: 171 King Street East
Website:
http://www.hirosushi.ca/
I'm normally not a fan of raw fish, but when you go to a restaurant that has Spider Rolls under "non-traditional", I had to opt for the regular sushi option. I ordered the Assorted Sushi ($13) on their lunch menu which is a steal for 7 pieces of sushi, 6 pieces of makimono, soup and salad.
You can taste the care that went into preparing the sushi; every part of it was some of the best I've ever had:
The rice is a great consistency - strong enough to lightly pick up with chopsticks but not so dense and gluey that it won't break; far too often restaurants make it so sticky that it ends up resembling a risotto ball.
Their fish was fresh and just the right thickness that I could bear eating raw fish without it reminding me eating raw fish. For some pieces it seems the chef had quickly seared the fish on the outside which produces a smokey scent and warm buttery texture.
Hiro Sushi is one of the few places that makes their own soy sauce and serves it in a cute small wooden container. The soy sauce is slightly thicker and sweeter than the regular Kikkoman version. Warning to the health nuts - there is no low sodium option here (i.e. the green cap).
Their wasabi is strong, for a few pieces I had my sinuses cleared up! Keeping with the traditions, their wasabi is served inside the sushi rather than on the side. So, if you can't handle the heat make sure you warn them to not use any wasabi.
For Business Lunches
Location: Blowfish
Address: 333 Bay Street, Bay Adelaide Centre, Street level
Website:
http://www.blowfishrestaurant.com/bay/
Roasted miso marinated black cod (2)
Please refer to http://gastroworldblog.blogspot.ca/2012/11/blowfish-toronto.html for my extensive review. If there is one dish you have to try, it's their black cod - the one reason I keep going back to Blowfish. Unlike my dinner experience, the fast service during lunch is actually appreciated and can get you back into the office within 1.5 hours.
A Close Second
Location: Ki
Address:
181 Bay Street, BCE Place, Street level
Website:
http://kijapanese.com/discover/landing/
Also has great non-traditional makimono rolls, my favourites are the rock shrimp tempura with spicy wasabi-garlic cream ($16) and the tempura butterfish ($14). Both the rolls have a great mixture of textures and flavours.
The downside is their black cod which is served with an orange sauce that I haven't warmed to.
For A Casual Lunch
My Favourite
Location: Akco Lounge
Address: 100 King Street West, First Canadian Place, Concourse Level
Website:
http://akco.ca/
I love the sheer number of Japanese and Korean dishes you can order here. Their black cod ($17.99), while not as great as Blowfish's, is still well cooked and a nice lunch-sized portion.
The maki combo set ($12.95) contains the tried and true California roll, salmon roll and one chef's choice (typically has been tuna). All while not outstanding are still good and reasonably priced.
A Close Second
Location: Ninki Sushi
Address: 40 King Street West, Scotia Plaza, Concourse Level
Website:
http://www.ninki.ca/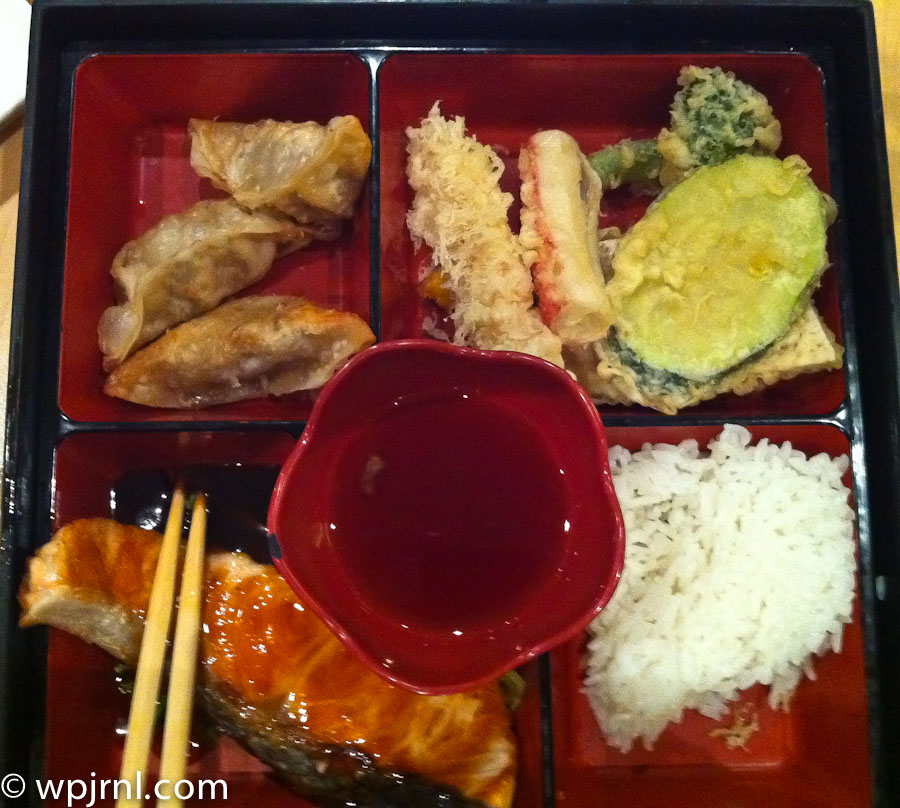 Ninki Sushi Bento Box - with dumplings and salmon (3)
The sushi itself is unmemorable, I do like that they offer a brown rice option. The better lunch choice, in my opinion, is their bento boxes ($13 with dumplings or $15 with salmon sashimi) which includes terriyaki (chicken, salmon, beef or pork), shrimp and vegetable tempura, rice and a California roll. Although not outstanding quality, for the price is a good deal.
Photo Sources:
Hiro Sushi Assorted Sushi Platter - Sushi Toronto (http://sushitoronto.ca/2010/08/hiro-sushi/). Note: The one included in the picture has more pieces than the lunch version and actual options change daily depending on availability.

Roasted miso-marinated black cod - Mastercard Fashion Week (

http://worldmastercardfashionweek.com/Stylicity/?p=2663

)

Ninki Sushi bento box - WPJrnl (http://wpjrnl.com/2011/02/11/ninki-sushi-bento-box/)